This is an important hairstyle to know as a professional groomer because West Highland Terriers are a very common breed in the UK and this standard cut is a popular request, one that is admired amongst pet stylists. It isn't the easiest to master but will give you a lot of skill if learnt properly. This course offers a full demonstration video of the entire Westie cut (including the head and feet) performed and taught to you by Laura Campanella, and tells you, step-by-step, exactly how to master this hairstyle with style and precision.
Intro
The Westie cut is a standard breed cut and is expected to be in any professional groomer's repertoire. The idea of the cut is to keep the coat neat and clean, and to accentuate the desired shape of the breed, which is compact, strong and stocky. According to the Kennel Club, a Westie should have a stout and muscular shape with a deep chest and broad shoulders.
We aim to create a square shape with this cut – it should demonstrate the stocky, agile nature of the Westie. In this course we will show you step-by-step how to carry out a professional, successful and tactile cut with a video demonstration and explanations from Laura accompanied with textual breakdowns of the video steps so you can go back and read over the steps in more detail. The video you can watch over and over again, and the course can be accessed and studied at any time.
Who is this course for?
This course for anyone interested in learning about the standard West Highland Terrier breed and cut. This course is perfect for a pet professional looking to develop their skills, learn new ideas and concepts to traditional cuts, and gain new technique to add to your own style. This course is for a novice groomer looking to learn the popular Westie cut to impress new customers, take on new customers, impress employers and expand your career opportunities. This course if for pet owners who want to learn how to professionally groom their West Highland Terrier with the confidence to clip and scissor their coat, body and face.
Reasons to enrol in this course?
There is no better way to develop your skills and train yourself up than with access to professional, high quality information, advice and support from a world renowned business owner and pet stylist who has 30 years experience in this industry both as a teacher and stylist. You will have lifetime access to a timeless course filled with accurate advice, spectacular skills and tried and tested techniques. This is a perfect way to learn, develop skills, train yourself and get better at grooming yours and other peoples pets.
What you will achieve?
A broad and detailed understanding of the Westie breeds, their coat and behaviours. This will make your treatment and grooming of the coat more refined, precise and authentic as you will understand the dog more and build stronger connections with them. This will elevate your grooming skills.
Confidence to carry out a professional standard breed cut on a Westie. This will help you to take on more Westie clients at your salon, and will develop your grooming credentials.
Knowledge about equipment that will expand your skills and technique.
Unique styling skills, tips and techniques from Laura which will set you a part from other groomers.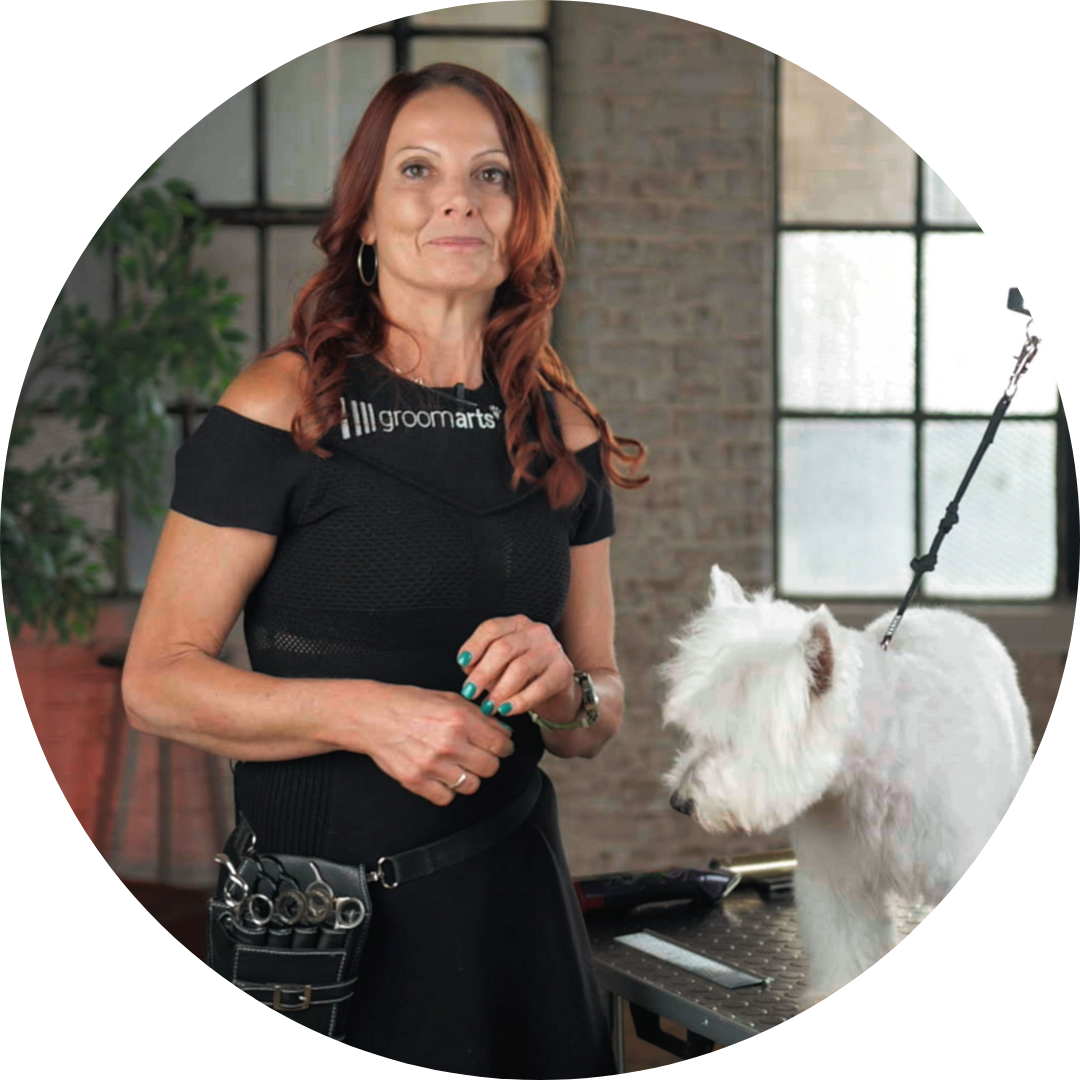 Your Instructor
Laura Campanella
From her academy in the north of London, Laura Campanella Academy Director of groomarts, teaches practical pet grooming and animal welfare courses, educating people to become qualified pet groomers and raising the standard of pet care. Laura has a dream that every pet or animal around the world will receive the best level of care, attention and affection everyday, and that everyone has the opportunity to receive dedicated training and trustworthy advice.
Other courses we think you might be interested in
Frequently asked questions
How long do I have access to the course?
Once enrolled onto a course it is available to you for a lifetime, or as long as you need it. There is no limit on course accessibility.
When does the course start and finish?
When you want to start and finish it. This is a flexible learning experience; once you are enrolled onto the course you can start it as many times as you want, pause and come back to it later, and finish it and start over again.
Will the course be available immediately?
Once enrolled the course is available immediately to start.
Is there support outside of the curriculum?
Our teachers, groomers and the staff at groomarts are available for you as much as possible and at anytime (when possible). You can email us, send us a private message, give us a call or visit us at our academy. Once you have enrolled as a student onto one of your courses you have joined our community of animal lovers, and we take care of our community.
How do I receive my certificate?
As soon as you have completed the course you will be provided with a groomarts certificate that states the completion of your course.
Check your inbox to confirm your subscription