Intro
This is an exclusive Puppy Cut Guide using Laura's very own personal method, style and technique that she has developed over her 30 years of working in the professional pet styling industry, her experience in competitions, and from her extensive knowledge and work with Poodles.
The famous Puppy or Teddy Bear Cut is one that has been around for longer than you might think. It is a very cute, elegant and bouncy style of haircut that is suitable, and looks cute on, both puppies and adult dogs. In this course you will learn not only how to perfect a perfect puppy cut on a lot of different breeds, shapes, sizes and age, but you will also be shown Laura's tried, tested and triumphed formula to the perfect Puppy Cut, which has seen her and her students through a lot of great times, happy customers and happy pooches!
Who is this course for?
Professional groomers who want to see an experts take on the popular cut
Anyone who wants to see a different perspective to creating the puppy cut look
Those who want to develop their existing skillset, gain new techniques and learn expert tips from Laura Campanella
Reasons to enrol in this course?
You are bound to face, as a groomer, someone asking for the puppy look at least once a day in your salon, and you will be extremely embarrassed if you don't know how to perform a pretty, elegant and top notch one.
There are also so many different versions, variations and styles to the puppy cut that even if you did know how to carry one out it might not be the style or look that the owner was asking for.
This course will teach you how to keep your customers happy and your pooches pretty.
What you will achieve?
The ability to make every puppy cut look and feel the same in just 5 simple steps
A unique and expert understanding of the Puppy Cut hairstyle
Laura's secret formula to perfecting the perfect puppy cut on multiple breeds
An experts confidence to performing this cut
Equipment advice and guidance
Coat care advice and guidance
Knowing what to ask your customers to ensure transparency and the best haircut
Knowing how to do the body, chest, back, legs, tail, skirt and head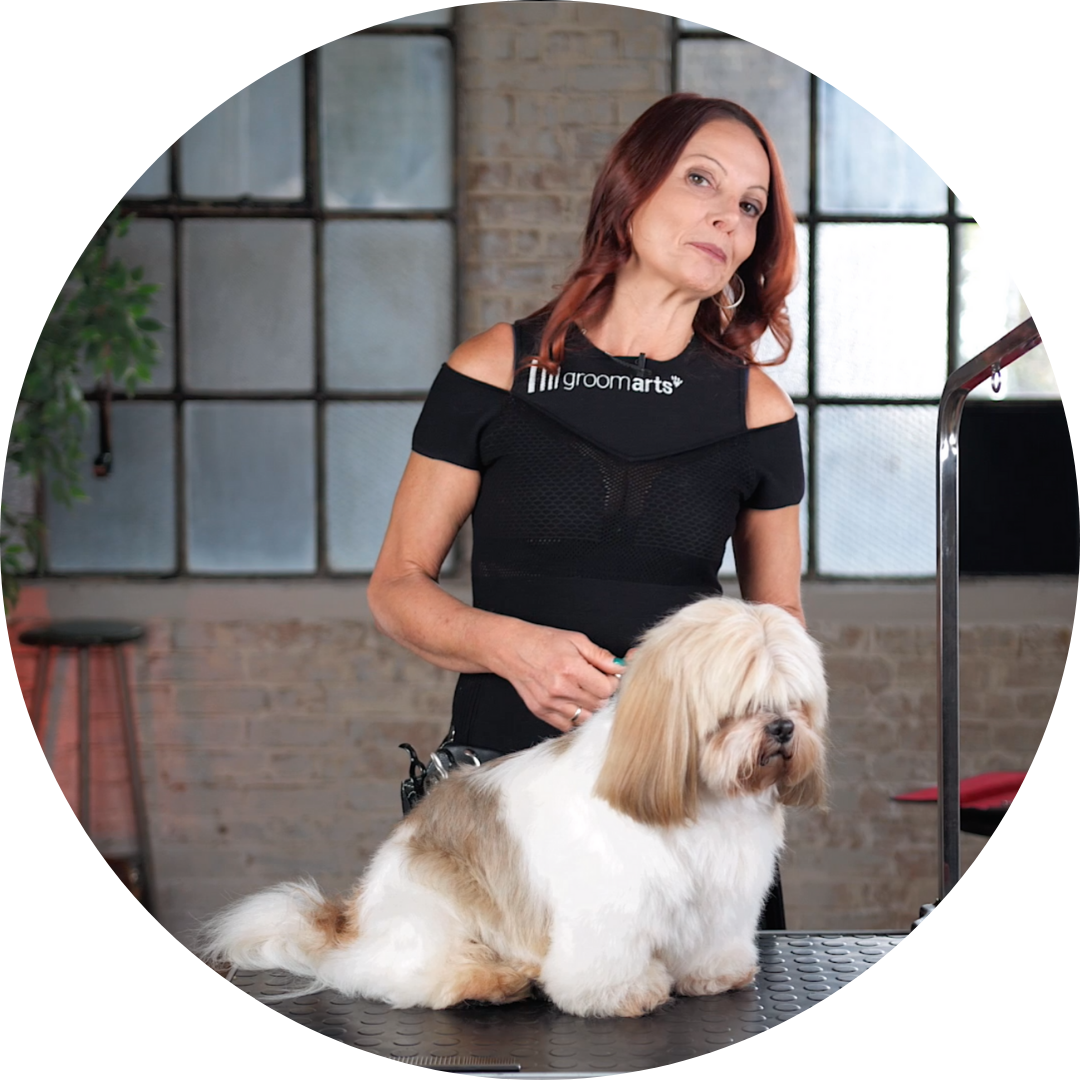 Your Instructor
Laura Campanella
From her academy in the north of London, Laura Campanella Academy Director of groomarts, teaches practical pet grooming and animal welfare courses, educating people to become qualified pet groomers and raising the standard of pet care. Laura has a dream that every pet or animal around the world will receive the best level of care, attention and affection everyday, and that everyone has the opportunity to receive dedicated training and trustworthy advice.
Other courses we think you might be interested in
Frequently asked questions
How long do I have access to the course?
Once enrolled onto a course it is available to you for a lifetime, or as long as you need it. There is no limit on course accessibility.
When does the course start and finish?
When you want to start and finish it. This is a flexible learning experience; once you are enrolled onto the course you can start it as many times as you want, pause and come back to it later, and finish it and start over again.
Will the course be available immediately?
Once enrolled the course is available immediately to start.
Is there support outside of the curriculum?
Our teachers, groomers and the staff at groomarts are available for you as much as possible and at anytime (when possible). You can email us, send us a private message, give us a call or visit us at our academy. Once you have enrolled as a student onto one of your courses you have joined our community of animal lovers, and we take care of our community.
How do I receive my certificate?
As soon as you have completed the course you will be provided with a groomarts certificate that states the completion of your course.
Check your inbox to confirm your subscription