Intro
The way we teach and train people comes from the same way we teach and train our students in our academy; we take our time to explain things, we make sure that you feel comfortable carrying out tasks yourself and we make sure that you don't just get the technique but also the knowledge surrounding this technique, this animal and the method. This guide goes through all the 5 initial stages of dog grooming from when you first meet a dog in your salon all the way through to clipping and styling their coat. Coupled with our Ultimate Coat guides and our Standard breed cuts you have the perfect knowledge, and skill, to care for any dog that comes into your life.
Who is it for?
Anyone! This beginners guide is perfect for professional groomers needing to brush up on technique or looking for a new angle to take; beginners starting out in the pet grooming industry looking for trustworthy and accurate advice and technique; pet parents who want to see the process your dog goes through when at the salon or parents who want to learn how to do aspects of grooming themselves; and anyone who loves dogs and wants to start treating them well.
Reasons to enrol?
Laura is a master of pet styling and animal care. Her passion and dedication is second to none; her knowledge is far more advanced than anyone we've ever met, and she doesn't hesitate sharing all that great knowledge with you.
As well as that, this course provides you with the most accurate advice to professional dog grooming and shows you in simple, easy to follow steps exactly how to carry out a perfect, and fun, salon groom with your dog.
It isn't easy finding the right advice, the market is so saturated with inaccurate knowledge and guides to dog grooming, but this course is taught from a professional who has been grooming for 30 years and helped hundreds of people become qualified, and brilliant, groomers, and has helped owners totally transform their relationship with their pets.
You can be sure that after this course you will feel ready to groom any dog.
What you will achieve.


Insight into nail clipping, why we do it, why it's so important and how to make sure that you do it safely, accurately and easily every time
Understanding why we clean dogs ears, which dogs ears need to be plucked and how we do this safely and effectively
Knowing how to carry out a professional salon wash with the right equipment to make it really easy but with a stylish finish
Making the drying process 10x quicker with Laura's pro tips
An accurate guide to brushing based on your dogs coat type
Confidence to groom any dog
Natural style and skill
Competitive tips and techniques
Course Curriculum
Start Course to Begin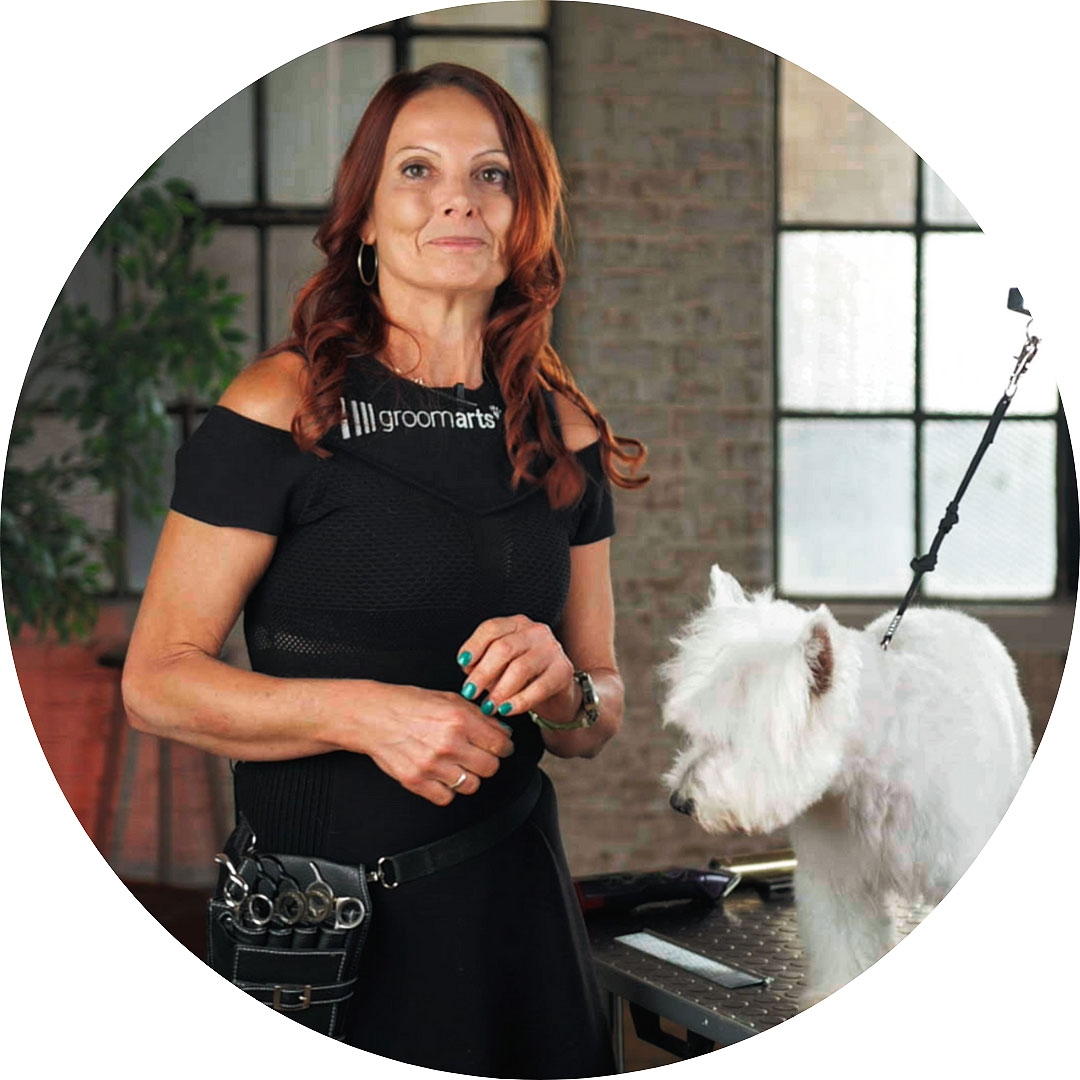 Your Instructor
From her academy in the north of London, Laura Campanella Academy Director of groomarts, teaches practical pet grooming and animal welfare courses, educating people to become qualified pet groomers and raising the standard of pet care. Laura has a dream that every pet or animal around the world will receive the best level of care, attention and affection everyday, and that everyone has the opportunity to receive dedicated training and trustworthy advice.
Frequently asked questions
How long do I have access to the course?
Once enrolled onto a course it is available to you for a lifetime, or as long as you need it. There is no limit on course accessibility.
When does the course start and finish?
When you want to start and finish it. This is a flexible learning experience; once you are enrolled onto the course you can start it as many times as you want, pause and come back to it later, and finish it and start over again.
Will the course be available immediately?
Once enrolled the course is available immediately to start.
Is there support outside of the curriculum?
Our teachers, groomers and the staff at groomarts are available for you as much as possible and at anytime (when possible). You can email us, send us a private message, give us a call or visit us at our academy. Once you have enrolled as a student onto one of your courses you have joined our community of animal lovers, and we take care of our community.
How do I receive my certificate?
As soon as you have completed the course you will be provided with a groomarts certificate that states the completion of your course.
Check your inbox to confirm your subscription