Let's start by learning how to handle and manoeuvre our cats in the most safest, securest and loving way to ensure easy grooming, and a comfortable relationship.
Intro
Contrary to what people might think, cats do need to be professionally groomed.
This doesn't have to be in a salon it can be at home, but at least once a month a cat needs to have a full body groom from head to toe. That's a wash, dry, brush, nails and sometimes a haircut. If they aren't being regularly groomed then they can develop health issues like skin conditions, infections and can be more susceptible to injuries.
They aren't as invincible as we think, and they definitely don't have 9 lives, so why not make the life that they definitely do have a perfect, healthy and stress free one?
With a little bit of grooming and parental care, your feline friends' health and happiness can be flawless.
Who is this course for?
This course is for anyone who owns or wants to own a cat and would like to learn how to keep them healthy, happy and handsome (ladies can be handsome too); anyone who wants to understand cats better and build stronger relationships with the ones they meet; and someone who loves cats and wants to learn more about them.
Reasons to enrol in this course?
Cat's are fiercely independent creatures and you will never be able to truly understand your cat until you start learning about their health and what makes them feel safe, happy and loved. 
A cat's health is often overlooked - they seem so tough, independent and resilient on the outside but a cat can really struggle with their health. A lot of cats as they get older develop quite severe health conditions; they often go blind, develop hearing problems and are prone to developing cancer and diabetes. And because of a cat's lifestyle - being hunters and natural fighters - they are also more prone to illnesses and infections, and being attacked by other cats leading to wounds and injury.
It is therefore extremely important to check up on your cat's health regularly, not just when they require a trip to the vet but at least once a week to make sure they aren't hiding anything from you.
Grooming is one of the best ways to do this. With daily brushes, a monthly bath, and weekly body checks you can keep a good eye on your cat and make sure they feel their absolutely best.
Cats benefit massively from grooming and the safer they feel around you the more they will confide in you when there is something that is bothering them. 
This course will teach you about the benefits to grooming cats and shows you exactly how to do it confidently and accurately.
What you will achieve.
Understanding of cats and their behaviours

Being able to pick up on cat signals

Have a much better understanding of your cat and their personality

Understanding how to handle and manoeuvre cats

Build stronger relationship with your cat based on trust and care
This is the first course in our 6 course series of professional cat grooming. Manoeuvring a cat is the first stage to providing a fantastic groom. After this course you will move onto the nails!
Example Curriculum
Available in days

days after you enroll

Cat Handling for Owners and Groomers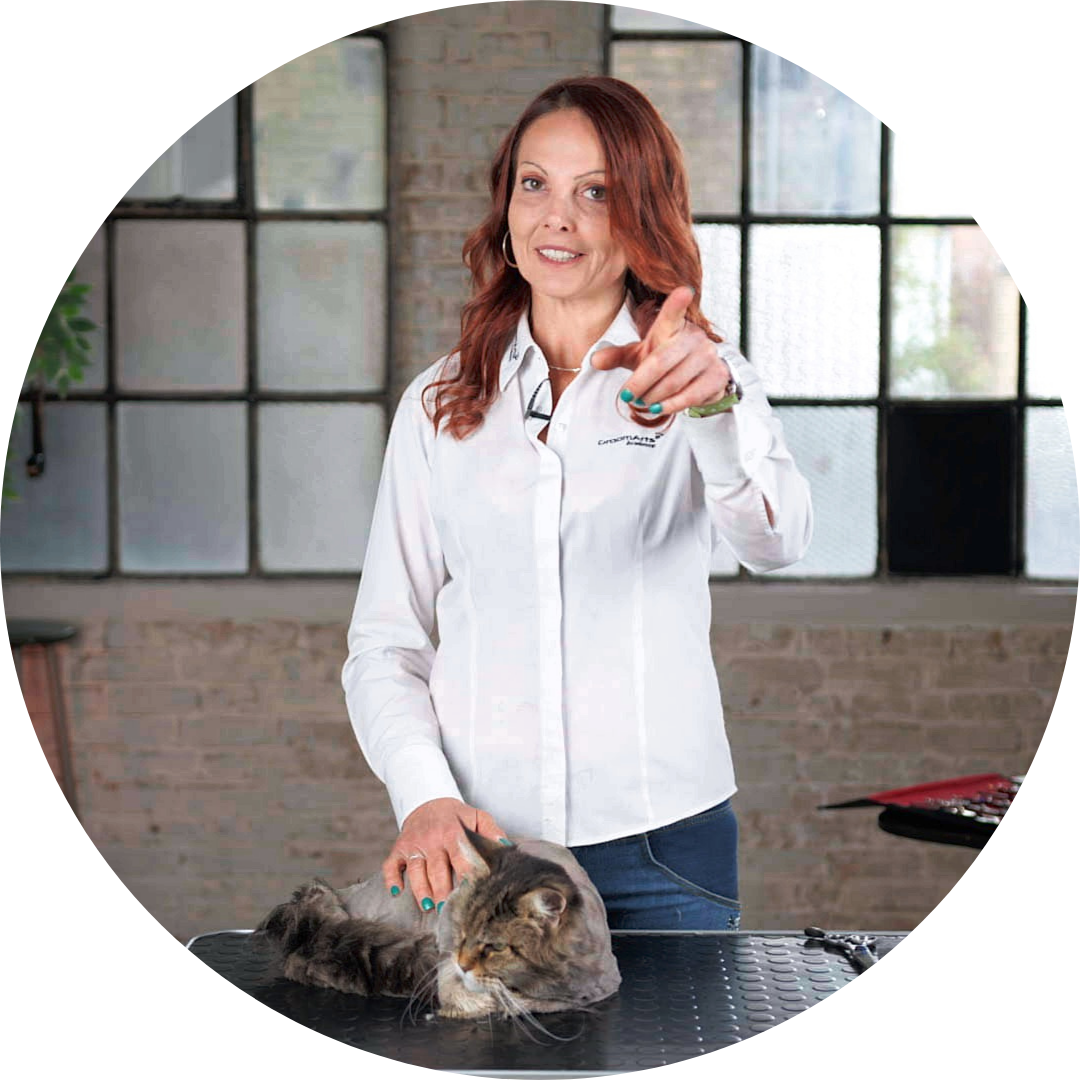 Your Instructor
Laura Campanella
From her academy in the north of London, Laura Campanella Academy Director of groomarts, teaches practical pet grooming and animal welfare courses, educating people to become qualified pet groomers and raising the standard of pet care. Laura has a dream that every pet or animal around the world will receive the best level of care, attention and affection everyday, and that everyone has the opportunity to receive dedicated training and trustworthy advice.
Frequently asked questions
How long do I have access to the course?
Once enrolled onto a course it is available to you for a lifetime, or as long as you need it. There is no limit on course accessibility.
When does the course start and finish?
When you want to start and finish it. This is a flexible learning experience; once you are enrolled onto the course you can start it as many times as you want, pause and come back to it later, and finish it and start over again.
Will the course be available immediately?
Once enrolled the course is available immediately to start.
Is there support outside of the curriculum?
Our teachers, groomers and the staff at groomarts are available for you as much as possible and at anytime (when possible). You can email us, send us a private message, give us a call or visit us at our academy. Once you have enrolled as a student onto one of your courses you have joined our community of animal lovers, and we take care of our community.
How do I receive my certificate?
As soon as you have completed the course you will be provided with a groomarts certificate that states the completion of your course.
Check your inbox to confirm your subscription